Hello! Thanks for entering! Check out my songs! Check out the Blanks on Track 4! Check out the 24 piece orchestra arranged by Colin R. Freeman! And, check out the vids to see from stuff I've done over the years, and Blanks vids, too! Have fun!
George's latest telegenic apperance
Big City Sessions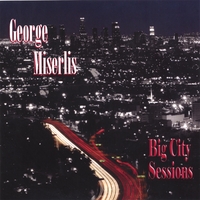 Check out George's album
Big City Sessions, produced by Colin R. Freeman.

Make sure you check out
track 4 where George performs God Only Knows with
The Blanks
Buy Big City Sessions on CD from CDBaby.com
Buy Big City Sessions download from iTunes
See all the places George TOURED!
Aberystwyth University Students' Union, Aberystwyth, Wales

John Hopkins University, Baltimore, MD

ASTRA Kulturhaus, Berlin, Germany

Heimathafen Neukoelln (Sold Out), Berlin, Germany

Ringlokschuppen, Bielefeld, Germany

Zeche (Sold Out), Bochum, Germany

Meier Music Hall (Sold Out), Braunschweig, Germany

Kulturzentrum Schlachthof (Sold Out), Bremen, Germany

Schlachthof, Bremen, Germany

The Old Museum - SOLD OUT, Brisbane, Australia

The chUKle Hut - Canberra University, Canberra, Australia

Tibbits Opera House, Coldwater, MI

Essigfabrik (Sold Out), Cologne, Germany

Bremen, Copenhagen, Denmark

Cork Opera House - SOLD OUT, Cork, Ireland

Stockbridge Theatre, Derry, NH

FZW, Dortmund, Germany

The Academy, Dublin, Ireland

The Helix - SOLD OUT, Dublin, Ireland

Eau Claire Regional Arts Center, Eau Claire, WI

Fringe Festival - Gilded Balloon, Debating Hall, Edinburgh, Scotland

2 local high schools, Findlay, OH

University of Findlay - Arts Partnership, Findlay, OH

Monroes - SOLD OUT, Galway, Ireland

Stenhammersalen, Göteborg
Check out where else George has toured